A propos de l'auteur Elketrittel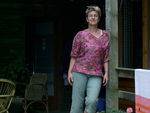 Site Web : http://artdelafibrite.canalblog.com
Pays : France

Quelques mots sur moi
I'm a mixed media artist of German origin who lives in the South of France with my family.Having travelled across all the five continents over 15 years,i have gathered so many images in my head that i take all my inspirations from that unique experience.I use different techniques and medias for my art,from acrylic paint,inks,pencils,oilcrayons to paper mâché (fibrite) including metal,sand,found objects,silver and gold leaves,recycled paper, magazine collages,strings,wires,wax,scews,nails,buttons ,almost everything that falls into my hands...
I hope you enjoy this journey into the land of colors!
Mes centres d'intérêt
Art,good literature,travels,politics,the beach and summer,my family and friends,my lovely wooden chalet on stilts,my quiet life to create a new world with bright colors...
Mes films préférés
Somehow i don't recall films the same way as books. Reading for me is creating my own film in my head..."The life of the others" by Florian von Donnersberg about the Stasi methodes in the 80's in the former east Germany and "Good Bye Lenin" are two films which made a lasting impression on me!
Mes musiques préférées
James Brown,Otis Reding,Nina Simone,Reggae,Carol King,Linda Lemay,Ella and Lewis,Renaud,Youssou N'Dour,Amy Winehouse,Marianne Faithful,Leonard Cohen etc...
Mes livres préférés
The Golden Notebook by Doris Lessing made me learn better English, and "Le Second Sex" and" Les manadrins de Paris"by Simone de Beauvoir better French. Purge by S.Oksanen,The Kite Runner,A short history of Ukrainian tractor ,100 years of solitude,Midnight children,The House of Spirits,The Shipping News,Amsterdam,also the east German writer Christa Wolf "Nachdenken über Christa T.",Günther Grass "Die Blechtrommel",Hermann Hesse's work,Thomas Mann,JW von Goethe,gosh,the list goes on...